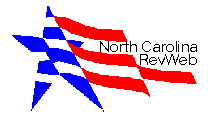 The Struggle for Independence in North Carolina

Much of the story of North Carolina's involvement in the American Revolutionary War can only be found published in local histories. Even a cursory look at these records reveals that the history of the state was frought with struggles of loyalty -- to Britain and to liberty. This is an effort to compile a timeline of the more important events, skirmishes, and battles within our boundaries which ultimately led to American independence. Links to additional information will be added as they become available. It is hoped that local historians will publish articles on the Web which will "flesh out" the skeleton provided here. Additions, corrections, suggestions, and comments are welcome. (Please note that the county names given in parentheses at the end of each entry indicate the present name of the county in which the event occurred.)
January 24, 1759: Enfield Riot. Lord Granville's land agents seized and compelled to give bond to appear in court and to return illegally collected taxes and fees. (Halifax)


February 19, 1766: 1000 armed "Sons of Liberty" in Brunswick Town confronted Royal Governor William Tryon and resisted the Stamp Act. (Brunswick)


1768-1771: War of the Regulation. North Carolinians, mainly from the west, calling themselves Regulators, organized to defy the injustices of British rule.

Capt. Benjamin Merrell and the Regulators of Colonial North Carolina
Archives: The Regulators and the Battle of Alamance
Names of North Carolina Regulators
The Regulator Movement and the Battle of Alamance
Regulators Petition
Regulator Movement


May 16, 1771: Battle of Alamance. 1,100 Militia of Royal Governor Tryon defeated 2,000 Regulators, ending the War of the Regulation. First battle against Britain fought in the colonies. (Alamance)

Alamance Battleground
Burlington, North Carolina


June 19, 1771: Six Regulators hanged after Battle of Alamance. (Orange)


August 8, 1774: Rowan Resolves. Backcountry Carolinians vowed to oppose excesses of English rule. (Rowan)


August 25-27, 1774: 1st Provincial Congress met at New Bern. (Craven)


October 25, 1774: Edenton Tea Party. 51 women met at Mrs. Elizabeth King's home and resolved to support the colonies' independence. (Chowan)

The Signers of the Resolutions of the Edenton Tea Party
Historic Edenton, North Carolina
Edenton History


May 20, 1775: Mecklenburg Declaration of Independence. The disputed first declaration of independence. (Mecklenburg)

Mecklenburg Declaration of Independence and Mecklenburg Resolves
Hornets' Nest: The Colonial Period


May 31, 1775: Governor Josiah Martin fled from New Bern, first to Fort Johnston, then to the Ship of War Cruizer, ending British rule of North Carolina. (Brunswick)


July 19, 1775: Fort Johnston. 500 Minute Men under Robert Howe attacked and burned this Fort, near Brunswick Town, which had been under British control. This action left the Cape Fear River unguarded throughout the Revolutionary War. (Brunswick)


February 27, 1776: Moore's Creek Bridge. Victory of 1000 Patriots over 1600 Loyalists. (Pender)

Moore's Creek Bridge Historic Site
Moore's Creek National Battlefield
Map of Moore's Creek National Battlefield
Wilmington in the Revolution
February 1776 in the American Revolution


April 12, 1776: Halifax Resolves. First formal sanction of American independence. (Halifax)


1776: British burned Brunswick Town. (Craven)


December 18, 1776: Constitution of North Carolina adopted. Richard Caswell elected first governor of independent North Carolina.


June 20, 1780: Battle of Ramsaur's Mill. 1000 Tories under Lt. Col. John Moore and Maj. Nicholas Welch were gathered here to receive arms and training. They were attacked by a force of 500 militiamen under Col. Francis Locke and Maj. Joseph McDowell. After more than an hour's fighting, mostly hand-to-hand, the Tories fled. 100 were estimated to have been dead and wounded on each side, and 50 Tories were captured. (Lincoln)


July 21, 1780: Battle at Colson's. About 200 Tories were camped at a farm near Colson's Mill, close to the junction of the Rocky and Pee Dee Rivers. A force of about 400 commanded by Col. William Lee Davidson attacked and defeated them. Of the Patriots, Col. Davidson and one other were wounded. Of the Tories, 3 were killed, 4 to 5 wounded, and 10 taken prisoner. (Stanley)


September 26, 1780: Charlotte Town. Near the Courthouse at the center of town, a force of fewer than 20 Whigs under Maj. Joseph Graham kept Cornwallis and the entire British army at bay for a short time, before slipping away into the dense woods. (Mecklenburg)

A Welcome for Cornwallis
Cornwallis Comes to Charlotte


October 3, 1780: McIntyre's Farm. 14 men firing from the woods upon 300 of Cornwallis' British soldiers, along with an upset beehive, drove the British back.

A Welcome for Cornwallis
Legend of the Hornets' Nest


October 14, 1780: Battle of Shallow Ford. 310 Whig militia from North Carolina and Virginia, under Maj. Joseph Cloyd, defeated between 400 and 900 Tories under Cols. Gideon and Hezekiah Wright. Capt. Henry Francis of the Whigs was killed, and four were wounded. 14 Tories were killed. (Yadkin)


January-February, 1781: General Greene led Cornwallis and his army from South Carolina to Virginia, separating them from their supplies in Charleston.

The Papers of General Nathanael Greene, Race to the Dan
Retreat to the Dan Memorial
"Many were Sore Chased and Some Cut Down"


January, 1781: Wilmington occupied. A fleet of 18 British vessels anchored in the Cape Fear River near Wilmington. 450 Redcoats under Major James Craig occupied the town. (New Hanover)


February 1, 1781: Battle at Cowan's Ford. Cornwallis and his army of British and Tories successfully crossed the Cataba River, defeating the Patriot forces of General William Lee Davidson, Maj. Joseph Graham, Col. William Polk, and Lt. Thomas Davidson. General Davidson, perhaps the most loved of all North Carolina's commanders, was killed. (Mecklenburg)

Death at Cowan's Ford


February 2, 1781: Torrence's Tavern. Col. Banastre Tarleton's British dragoons attacked militiamen halted after the crossing at Cowan's Ford. Between 10 and 50 were killed.


February 3, 1781: Trading Ford. In a brilliant maneuver, General Greene's U.S. Army gathered local boats and used others built by engineer Thaddeus Kosciuszko to cross the swollen Yadkin River at the Trading Ford. Tarleton engaged Greene's rear guard and Cornwallis, unable to follow, shelled Greene's camp on the far shore. (Rowan/Davidson)


February 7, 1781: Shallow Ford. The British army crossed the Yadkin River at the Shallow Ford. (Yadkin/Forsyth)


February 23, 1781: Pyle's Defeat. Tories going to join Cornwallis' army at Hillsborough were destroyed by a Whig force under ''Light Horse Harry'' Lee and Pickens. Over 90 Loyalists were killed. (Alamance)


February, 1781: Heron Bridge. Major Craig's British forces attacked Gen. Alexander Lillington's Whig militia. After two days, Craig retreated, leaving the Whigs still in control of the bridge. (Pender)


March 2, 1781: Clapp's Mill. Lt. Col. Henry Lee's U.S. forces attempted to ambush Col. Banastre Tarleton's British forces. Tarleton recoved and Lee was forced to retreat, losing 8 men, while the British lost 20. (Alamance)


March 6, 1781: Weitzell's Mill. American forces under Col. Otho H. Williams were unable to stop Cornwallis and his Britich troops under Col. James Webster and Tarleton from crossing the Reedy Fork Creek. (Guilford)


March 15, 1781: New Garden. About 6 miles from Guilford Courthouse, there was askirmish between Light Horse Harry Lee's American forces and British under Tarleton. (Guilford)


March 15, 1781: Battle of Guilford Courthouse. General Nathanael Greene's American forces (4400) and Charles, Second Earl Cornwallis' British forces (1900) finally met in battle. Although the British claimed the field of battle, their greater losses, more than a quarter of the army, greatly weakened them. (Guilford)

Guilford Courthouse 1781
Guilford Courthouse National Military Park
Guilford Courthouse National Military Park
Map of Guilford Courthouse National Military Park
Guilford Courthouse Battleground
Tannenbaum Historic Park
Guilford Courthouse Flag
Battle of Guilford Courthouse: Henry Clinton Map #291
"Many were Sore Chased and Some Cut Down"


April 7, 1781: Cornwallis arrived in Wilmington. (New Hanover)

Harmony Hall


May 7, 1781: Swift Creek and Fishing Creek. Cornwallis defeated local militia. (Nash)


May, 1781: Halifax. Cornwallis defeated local militia and occupied town. (Halifax)


July 16, 1781: Old Chatham Courthouse. Newly appointed Tory Col. David Fanning and his militia of Chatham and Randolph counties guarded the roads leading to the Courthouse and captured most of the Whig militia officers of the county. (Chatham)


August 2, 1781: Battle of Rockfish. British under Major Craig defeated 330 N. C. Militia under General Caswell and Col. Kenan. 20-30 Whigs were taken prisoner. (Duplin)


August 5, 1781: House in the Horseshoe (Alston House). Tories under David Fanning attacked the Whig forces of Col. Phillip Alston camped at his house. Alston surrendered. (Moore)


August 19, 1781: New Bern occupied by British soldiers.


August 29, 1781: Battle of Elizabethtown. 70 Whigs under Col. Thomas Robeson defeated a force of 400 Tories under Col. John Slingsby. After most of the Tory officers had been killed or wounded, the remaining fled, many into a ravine since called Tory Hole. (Bladen)


September 1, 1781: McPhaul's Mill. Tory forces under David Fanning routed Whig force under Thomas Wade. (Hoke)


September 14, 1781: Lindley's Mill. Gen. Butler and 300 Whigs attempted to rescue Gov. Burke and 13 others from David Fanning's 600 Tories. The previous day Fanning and 21 to 22 of his men had ridden into Hillsborough in broad daylight and captured the Governor. (Alamance)

Thomas Lindley
Photographs of Lindley's Mill


October 15, 1781: Raft Swamp. Whigs routed Tories after McPhaul's Mill. (Robeson)


1788: Constitutional Convention met in Hillsborough. Raleigh chosen as state capital. (Orange)


November 21, 1789: North Carolina was the 12th state to ratify the U. S. Constitution.


Other Links - North Carolina in the Revolutionary War period:
Also by this author: | Battle of Shallow Ford | The Trading Ford | Whigkid's Home |
This page created on February 5, 1997 by Ann Brownlee. Last revision May 2001. For additions, corrections, or comments, contact Ann Brownlee, email: whigkid at bellsouth dot net (This email address was configured to avoid spam. Please re-configure in standard email format.)